I cataloghi editi dal gruppo MADEinNOVE dal 2002 ad oggi:
2012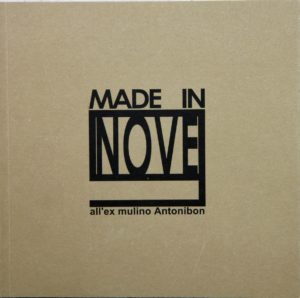 MiN2012 – catalogo – disponibile
ITA. Dieci anni di storia e lavori riuniti in un unico volume. Contiene il contributo intitolato "Viaggio ceramico in Italia" di Sara Russo, una selezione di opere e la biografia di ciasuno; in appendice un excursus sulle cotture sperimentali "in situ".
ENG. Ten years of history and work together in a single volume. Contains the contribution entitled "Ceramic Travel in Italy" by Sara Russo, a selection of works and the biography of each one of us; contains also an excursus on our experimental firings "in situ."
ESP. Diez años de historia y trabajo conjunto en esto volumen. Contiene la contribución titulada "Viaje de cerámica en Italia" por Sara Russo, una selección de las obras y la biografía de cada unos; en el Apéndice un excursus sobre la cocción de cerámica experimental "in situ".
Testo in italiano, 96 pagine a colori, copertina cartonata, ISBN 978-88-907674-0-1
Per informazioni, scrivici un'e-mail / For information, write us an email / Para obtener más información, escríbanos un correo electrónico
madeinnove [a] gmail [.] com
2007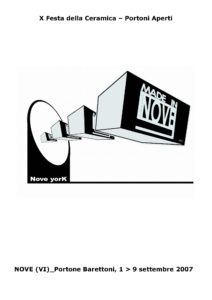 MiN2007 – catalogo- SOLD OUT
(click image to download *.pdf)
ITA. Terzo catalogo del gruppo con alcuni ospiti: il gruppo SEME (Denis Imberti, Mauro Quattoni e Stefano Tasca) e i "non parenti" Manuel e Simone Crestani. Quell'anno si delineò maggiormente l'identità del gruppo MADEinNOVE e la sperimentazione ceramica. Stampato in sole 100 copie e poi reso disponibile gratuitamente in formato *.pdf nella prima versione del sito noveyork.it.
ENG. Third catalog of the group with some guests: group SEME = SEED (Denis Imberti, Mauro Quattoni and Stefano Tasca) and the "no relatives" Manuel and Simone Crestani. In 2007 the identity of the group MADEinNOVE went to ceramics testing and experimentation. Printed in just 100 copies and then made available for free download in * .pdf in the first version of noveyork.it site.
ESP. Tercer catálogo del grupo con algunos invitados: grupo SEME = SEMILLA (Denis Imberti, Mauro Quattoni y Stefano Tasca) y los "no somos familiares" Manuel y Simone Crestani. Ese año se esbozó más la identidad del grupo MADEinNOVE y la esperimentacion cerámica. Impreso en 100 copias y luego hizo libremente disponible en * .pdf en la primera versión del sitio noveyork.it.
2006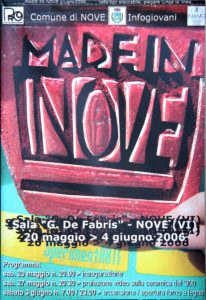 MiN2006 – catalogo – (SOLD OUT)
(click image to download *.pdf)
ITA. Il secondo catalogo del gruppo fu un'operazione mediatica relativamente nuova per vari motivi. Primo: nel frattempo era nato il sito noveyork.it (curato da colui che fino a tutto il 2006 rimase il sesto membro ufficiale del gruppo: il mitico webmaster Sergio JOE Tolio). Secondo: si trattava di un inserto staccabile all'interno della rivista "Sound&Vision" (Anno 3°, numero 31, maggio 2006), curata dal DJ e già titolare del "Planet Rock" Daniele Pensavalle; tiratura 10'000 copie.
ENG. The second catalogue of the group was a quite new media activity for various reasons. First of all, in the meantime, we started our web site noveyork.it (edited by the person who was the sixth official member of the group until the end of 2006: legendary webmaster Sergio JOE Tolio). Second, it was a removable insert within "Sound&Vision" magazine (Year 3, number 31, May 2006), curated by DJs and already the owner of "Planet Rock" Daniele Pensavalle; circulation 10,000 copies ca.
ESP. El segundo catálogo del grupo era una operación con medios de comunicación relativamente nueva, por diversas razones. En primer lugar, en el ínterin, nació el sitio noveyork.it (editado por la persona que hasta el final de 2006, fue el sexto miembro oficial del grupo: el legendario webmaster Sergio JOE Tolio). En segundo lugar, se trataba de una inserción extraíble dentro de la revista "Sound&Vision" (Año 3, Número 31, mayo de 2006), a cargo de los DJ y ya el dueño de "Planet Rock" Daniele Pensavalle; la circulación fue de 10.000 ejemplares.
2002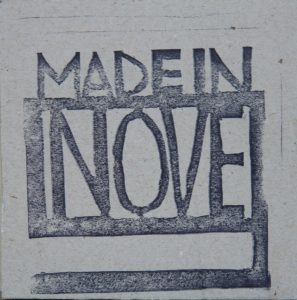 MiN2002 – catalogo- SOLD OUT
(click image to download *.pdf)
ITA. Il nostro primo catalogo: tiratura circa 200 copie. Come tutto ciò che abbiamo realizzato da allora, fu autoimpaginato e si caratterizzava per la copertina in cartone pressato stampata a mano e chiusa con un elastico. Il catalogo conteneva un foglietto introduttivo e sei schede a colori fronte/retro, con un'opera da un lato e una breve biografia dall'altro (oggi assolutamente anacronistiche, ma eravamo molto più giovani…).
ENG. Our first catalogue: circulation 200 copies ca. As all we have achieved since then, it was a DIY work with handprinted pressed-cardboard cover sealed with a rubber band. The catalogue contained an introductory leaflet and six boards front / back, with a work on one side and a short biography on the other (now totally anachronistic, but we were much younger …).
ESP. Nuestro primer catálogo: circulación acerca de 200 copias. Como todo lo que hemos hecho desde entonces, fue totalmente paginado por nosotros y con la tapa de cartón handprinted y sellado con una banda de goma. El catálogo contenía un folleto introductorio y seis tablas frontal / trasera, con un trabajo en un lado y una breve biografía en el otro (ahora totalmente anacrónica, pero estabamos mucho más jóvenes …).